Try Olive Leaf Extract for Better Cholesterol
Olive leaf, in particular, has been studied more and more over the years for its antioxidant and antimicrobial qualities, and for its ability to fight viral and yeast infections.
And studies have shown that olive leaf extract can reduce LDL ("bad") cholesterol and lower blood pressure, making it an excellent heart-protective nutrient.
Researchers concluded that olive leaves are a potent antioxidant that could greatly reduce the risk of atherosclerosis, heart disease and other diseases associated with free radical damage.
Olives, Olive Oil & Olive Leaf Extract
Olive Leaf Extract May Be The Key To Heart Health
Oleuropein is a polyphenol produced by the olive tree, which makes it particularly robust and resistant against bacterial damage. Hydroxytyrosol is a major ingredient of virgin olive oil — one of the cornerstones of the heart-healthy Mediterranean diet. Although it is found in olives and olive oil, the highest concentrations occur in the leaf.
Polyphenols provide all-round heart protection by helping to prevent atherosclerosis (thickening of artery walls), preventing the oxidation of LDL cholesterol that triggers inflammation (olive leaf extract has multi-targeted anti-inflammatory effects) and reducing the formation of arterial plaques (thereby reducing the risk of heart attack and stroke).
I have hypertension (high blood pressure) and high cholesterol. Are there any natural ingredients that can help with these conditions?
After doing very extensive research on cholesterol and its effects on the human body, I don't believe there is such a thing as high cholesterol. Cholesterol is not the enemy – it's a vitally important building block for everything from vitamin D to our sex hormones. Having said that, I do believe in maintaining a healthy cholesterol balance.
---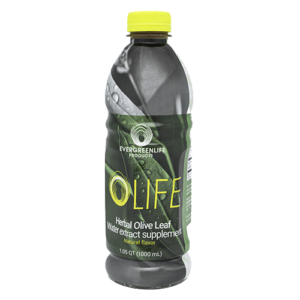 OLIFE 1000 ml contains 93% of (OLIVUM®), our exclusive olive tree leaves' water infusion rich in Oleuropein, Elenolic Acid, Rutin, Tyrosol and the efficient antioxidant Hydroxytirosol.
It has been scientifically recognized that these molecules have the following effects: antioxidant, antiradical, regulate arterial pressure, improve blood circulation, energizing, hypoglycaemic, lower cholesterol, metabolize lipids and carbohydrates.
---
Olive Leaf May Lower Cholesterol Levels
To combat bad cholesterol, several ways have been invented. One method that is receiving lots of attention is the use of oleuropein found in olive leaf. Oleuropein is a substance that is believed to help combat the risk of cholesterol by reducing the levels inside the body.
Although studies are still ongoing, oleuropein found in olive leaf extract is showing encouraging results when it comes to treating cholesterol.
Lower Cholesterol Naturally and Fast
If you want to lower cholesterol, diet is key. Here are the top foods and nutrients that can naturally lower cholesterol:
Omega-3 fats – Foods high in omega-3 fats can help increase HDL cholesterol and reduce risk of cardiovascular disease.
Foods high in soluble fiber – Soluble fiber binds cholesterol in the digestive system causing it to be excreted by the body. Include plenty of fruits, vegetables, sprouted nuts and seeds and other fiber rich foods.
Olive oil – Helps raise HDL cholesterol.
Garlic and onions – These two cholesterol reducing foods help lower LDL cholesterol because of their sulfur containing compounds which help cleanse the arteries.
Herbs – Add a variety of spices such as basil, rosemary and turmeric to your food which contain antioxidants that are cardio-protective and help lower cholesterol naturally.
Scientific and Medical Resources
Oleuropein protects low density lipoprotein from oxidation.
Researchers at the University of Milan in Italy have found that oleuropein inhibits the oxidation of low-density lipoprotein, the 'bad cholesterol' involved in the formation of various types of heart disease. This finding was confirmed by further research, which shows that oleuropein contains valuable antioxidant properties.
https://www.ncbi.nlm.nih.gov/pubmed/7990657
Antioxidant action in LDL cholesterol from regular intake of olive tree leaves' water infusions.*
Authors: Serafini, Laranjinha Ja, Almeida LM, Maiani G
Institute: Laboratorio di Ricerca Sugli Antiossidanti Istituto Nazionale Ricerca Alimenti e Nutrizione, Roma
Year:2000
Olive Leaf Extract Improves the Atherogenic Lipid Profile in Rats Fed a High Cholesterol Diet.
Total cholesterol and LDL-cholesterol levels were found to be increased in cholesterol-fed rats, and both doses of olive leaf extract and atorvastatin significantly decreased those levels.
https://www.ncbi.nlm.nih.gov/pubmed/26328503
Olive Leaf Extract Can Help Tackle High Blood Pressure And Cholesterol
Taking 1000 mg of a specific olive leaf extract (EFLA 943) can lower cholesterol and lower blood pressure in patients with mild hypertension (high blood pressure).
https://www.sciencedaily.com/releases/2008/08/080827002717.htm
Antioxidant effect of polyphenols and natural phenols
https://wikivisually.com/wiki/Antioxidant_effect_of_polyphenols_and_natural_phenols
Olive tree (Olea europaea) leaves: potential beneficial effects on human health.
http://www.biowebspin.com/pubadvanced/article/19906250/
Evaluation of hypocholesterolemic effect of oleuropein in cholesterol-fed rats.
Oleuropein, which is the major compound of olive leaves, has been reported to exert several pharmacological properties, including anti-cancer, antidiabetic and anti-atherosclerotic activities.
https://www.ncbi.nlm.nih.gov/pubmed/27019295