Fresh Olive Leaf Extract – Study On Blood Sugar Levels
A study released by The Liggins Institute, at world-ranked university, The University of Auckland, has shown that the extract of fresh olive leaves may help support blood sugar and insulin levels – crucial to glucose regulation and the prevention of type 2 diabetes…
Is Olive Leaf Nature's Answer to Diabetes Treatment?
The ability of olive leaf extract to treat type 2 diabetes was confirmed in a study last year from Israeli medical researchers. In this study, 79 type 2-diabetic patients were given 500 milligrams daily olive leaf extract or a placebo for 14 weeks. The olive leaf treatment group had significantly lower levels of HbA1c (glycosylated hemoglobin) and lower fasting plasma insulin levels…
Olive Leaf Helps Treat Type 1 Diabetes
Olive leaf has been found to help turn around type 1 diabetes according to multiple studies.
"The researchers found that the olive leaf extract lowered insulin resistance by an average of 15% and increased the productivity of the pancreas' beta cells – which produce insulin – by 28%."
Yes, we are referring to type 1 diabetes, related to damage to the pancreas' beta cells. This sort of diabetes is known by conventional medicine to be uncurable. Can nature provide a solution? Yes, according to researchers…
Olive Leaf Extract to Prevent Diabetes
Diabetes Natural Treatment
One study conducted in Greece measured the effects of olive leaf extracts on the formation of advanced glycation end products (known as AGEs), which are substances that can be a factor in the development of diabetes and many other chronic diseases. Inhibiting AGE formation is a preventive and therapeutic target for patients with diabetes, and a 2013 study found that olive leaf extract did just that, working as a diabetes natural treatment.
---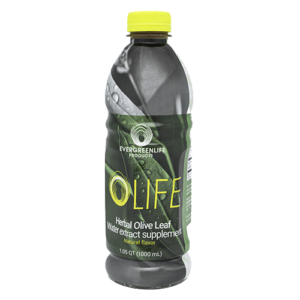 OLIFE naturally contains over 200 milligrams of Hydroxytyrosol which may increase physical efficiency and improve attention. OLIFE 1000 ml contains 93% of (OLIVUM®), our exclusive olive tree leaves' water infusion rich in Oleuropein, Elenolic Acid, Rutin, Tyrosol and the efficient antioxidant Hydroxytirosol.
It has been scientifically recognized that these molecules have the following effects: antioxidant, antiradical, regulate arterial pressure, improve blood circulation, energizing, hypoglycaemic, lower cholesterol, metabolize lipids and carbohydrates.
---
Fresh Olive Leaf Extract – Study On Blood Sugar Levels
A study released by The Liggins Institute, at world-ranked university, The University of Auckland, has shown that the extract of fresh olive leaves may help support blood sugar and insulin levels – crucial to glucose regulation and the prevention of type 2 diabetes.
Olive Leaf Extract
Olive leaf extract is a supplement that is derived from the olive leaf, which contains bioactive compounds that provide a health and wellness tonic that has many researched health benefits. The extract contains a wide variety of compounds which work synergistically to deliver a multitude of therapeutic actions.2, 3
Production of Olive Leaf Extract
Olive Leaf Health Benefits
Although there is currently a lack of clinical trials testing the health effects of olive leaf extract, a number of preliminary studies have found that olive leaf extract may offer certain benefits. Here's a look at some key findings from the available research…
Diabetes – Olive Leaf Extract and Diabetes Control
Olive leaf extract may aid in diabetes control, according to a small study published in the Journal of Medicinal Food in 2012. For the study, 79 adults with type 2 diabetes took either a supplement containing olive leaf extract or a placebo every day for 14 weeks. By the study's end, participants given olive leaf extract showed a significantly greater decrease in blood sugar levels (compared to members of the placebo group)…